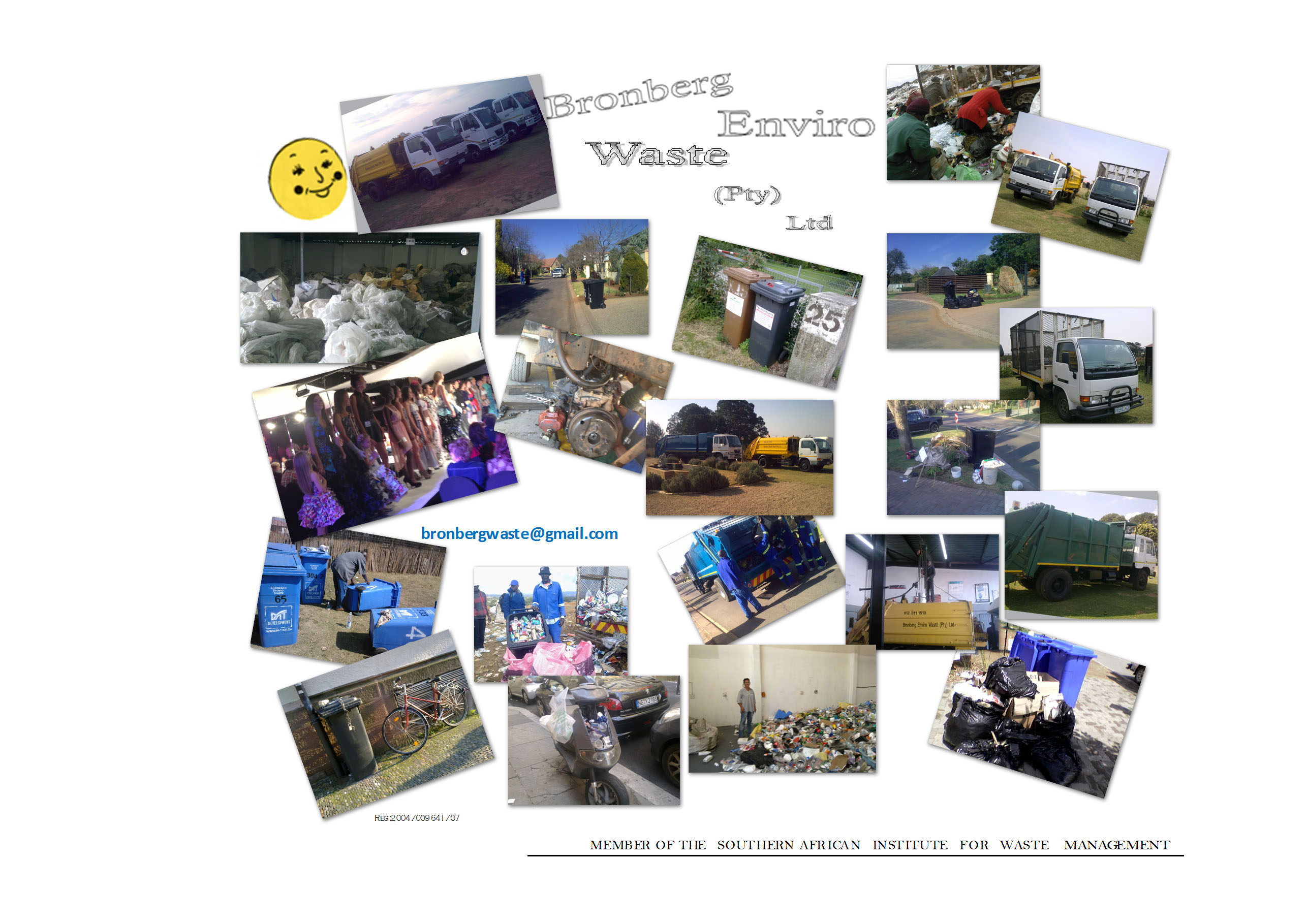 FROM THE DIRECTORS
The directors sincerely hope that the information provided is sufficient to demonstrate its willingness to provide
your Estate with the utmost professional and cost effective waste service. We may at any time be contacted
directly to assist.
The information provided is authentic, prepared in conjunction with our internal auditor and is therefore regarded
confidential. We therefore trust your discreet responsibility.
Integrated Waste Management
Waste is broadly defined by the Department of Water Affairs in 1994 as: "an undesirable or superfluous by-product, emission, residue or remainder of any process or activity'. Our approach is to view a client's waste holistically, that is, to endeavor to deal with the entire spectrum of issues and challenges surrounding a client's waste. Client's, on the other hand, need to view their products holistically as part of product stewardship, for by law, clients remain responsible for their products from 'cradle to grave'. An integrated approach to waste management should therefore take into account the full life cycle of a product, including the impact from manufacturing processes, product use and final disposal.
Certificates pertaining to our industry:
The Institute of Waste Management for Southern Africa, which embodies all registered service providers, is endeavoring to accelerate the Recycling National By-laws. Until such time the client (source) is responsible for implementing their own program with the assistance of preferred service providers.
Our workforce is under constant supervision & conducts its work within the Municipal by-laws.
Stock is purchased from a SABS approved supplier with a five-year warranty.
Life expectancy of the containers is 16 years before replacement and excluding vandalism i.e. no ash allowed, removal of wheels / unauthorized painting or markings on bins etc.
We are a Tshwane permit holder
We are a member of I W M S A – Institute of Waste Management for SA (waiting for 2013/2014 certificate)
Recycling:
We recycle and if you wish to join in the program please call us for an upfront meeting to discuss your needs and requirements.
Landfill Toxins Leaking Out Of Garbage Trucks
We received an alarming e-mail this week from a client that reminded us that those garbage trucks we see picking up trash are constantly leaking leachate (a) ... liquid containing soluble material removed from a solid mixture through which the liquid has passed from residential areas or b ...the liquid produced in a landfill from the decomposition of waste within the landfill - i.e. the stuff inside those dark plastic bags and it is getting all over our streets, our lawns and our lives.
Because we have strict government controls (especially when fitting a SABS compactor on a chassis cab), we are conveying item (a) above and not item (b).
This stuff (leachate) is contained firstly at a client for a maximum of a week and secondly goes into the closed compactor bin on the day of collection before it reaches the landfill site. True, very little attention is paid by all parties (including government) to the possibility of toxins that get dribbled out of the trucks as they pass our homes each week.
However, these trucks are designed to contain the fluids and release this once separated from the solid waste in the truck as it compact its load over and over similar to how the juice of an orange separates when it is squeezed. Customers should remember that the liquid leaking has been contained for the maximum of one week and have most likely not yet reached toxic conditions – we could not find any article relating to the affirmative in our search on the internet. Once lying at the landfill site and mixed with other old waste – not our field of expertise- we can inform that gasses are released which may be toxic to the environment. Our landfill sites are controlled solely by our municipalities and adhere to strict national & international regulations. We can also confirm that the landfill sites have piping placed at strategic locations to release combustible gasses.
Many of us think of the garbage we tossed out this week . . . old watermelon skins, coffee grounds, emptied dog food and plastic containers that once held toothpaste or hair shampoo, and we don't see anything dangerous in it. So, why the alarm? Tossed in the mix are soiled diapers, cat litter, all the chemicals we use such as cleaning products, repairing and maintaining our lawn mower and other power equipment, unused prescription medicines, paints and even garden and lawn chemicals like insect repellent, fertilizer and old flashlight batteries. We then take the mixture of all of these things and press and compact over and over. The fluid we are left with is garbage leachate BUT unlike the garbage leachate in the municipal landfills.
Solid waste collected on a weekly basis, may become infested easier when wet grass cuttings are mixed and kept for a week, enhancing the accumulation of bugs. The composting abilities are reached earlier because of its organic structure/composition and should be disposed of as soon as possible. For this reason, (apart from the damage it does to compactors in respect of corrosion) owners should consider implementing an additional weekly service for collecting grass cuttings and small garden waste in a different vehicle on a different date.
Many clients have lids open which accumulate rainwater and once tipped liquefies the solid waste.
Consider that the 'plugs' (compulsory by SABS standards at the bottom of the compactor bin) are opened manually from our vehicles once it reaches the landfill site (unlike most municipal vehicles who are obliged to carry waste 'unplugged). We take great care not to spill anywhere outside of the landfill site but cannot control liquid at all times once compressed. The option has been considered to work with open vehicles but we have found this increases the problem and study worldwide require closed waste collection vehicles.
The customer should also consider that when we (truck owners) mount compactors to chassis, we are not allowed to commence without the strict regulations and approval of SABS standards and by their physical inspections. The standard of our vehicles are also checked each year (by South African Law via our roadworthy tests – an account which is a nightmare to truck owners – and especially compacting vehicles)
At some companies, the drivers are told when they finished their routes that they could go home for the day. They start increasing operational pressure to get a better pack and save trips to the landfill. This is not the case with our drivers since they are remunerated per hour.
Also consider "at least 75 percent of hydraulic-system failures and maintenance actions stem from contaminated fluid and not releasing fluids from compacted waste.' According to the service centre in Pretoria West Mr. Anton Kotze, 'solids are the most common and damaging'. He continues, "These can be either hard, such as metals, motor oils being mixed with solid waste and dirt. Residential green waste contributes to overflow when compacted especially in summer or when water is tipped! Your weight count at the weigh bridge confirms this. Therefore the account during the 7 summer months is more strenuous on your vehicles!' Residential vehicles average 1,200 stops a day, driving up to 200mi.per 10-hour shift.
We sincerely hope that the customer(s) realize that waste companies endeavour to take every effort to minimize the problem of spillage and consider the predicament everyone is trying to cope with. We have included a sketch to assist with your understanding.
20131010/ Article for: Erasmus SABC2 50/50
By L. Deetlefs (CEO Bronberg Enviro Waste (Pty) Ltd and stakeholder in BI Waste (Pty) Ltd and Green Enterprise (Pty) Ltd)